Head of Lithuanian Parliament vizited the Museum
Speaker of the Lithuanian Seimas Viktoria Chmilyte-Nielsen visited the National Museum of the Holodomor-Genocide. She laid flowers at the sculpture "Bitter Memory of Childhood", lit a candle in memory of the victims of the Holodomor, listened to a tour of the museum and received a selection of books about the genocide of Ukrainians as a gift.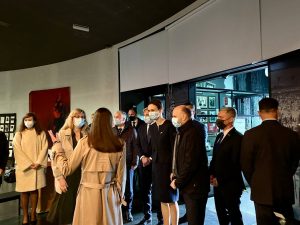 The Republic of Lithuania recognized the Holodomor as an act of genocide on November 24, 2005.
"The Seimas … recognizes that in 1932–1933 the Stalinist communist regime committed a deliberate, carefully planned genocide of the Ukrainian people."
In 2020, the Holodomor Museum presented an audio guide in 33 languages, including Lithuanian.