Holodomor witnesses Olena Vladymyrets from Vinnytsia: We will survive both hunger and cold and this cursed war
"I lived my life, but the sun never warmed my eyes, and everywhere – only wind and rain. I didn't have a smooth life path, only thorns," says Olena Vladymyrets from Vinnytsia, looking back on her 93 years. There was everything on that path: famine, wars, orphanhood, closest people's deaths, and hard slave labour on the collective farm. She is convinced: if Putin had a life like hers, he would not want to fight. But he would want a quiet and peaceful life when there he had bread and enough bread when his children are healthy, and he himself is not a burden for them… But is this understandable to a person for whom ordinary human values are worthless?
Despite her advanced age and health problems (the woman can barely move around the apartment with a walker), Ms Olena helps her daughter Nina make trench candles for Ukrainian soldiers. "I hope that our candles will warm someone's son or husband. If I could, I would bow down to heaven for our soldiers. To win victory and peace for all of us as soon as possible. I constantly pray for this," Olena Vladymyrets says.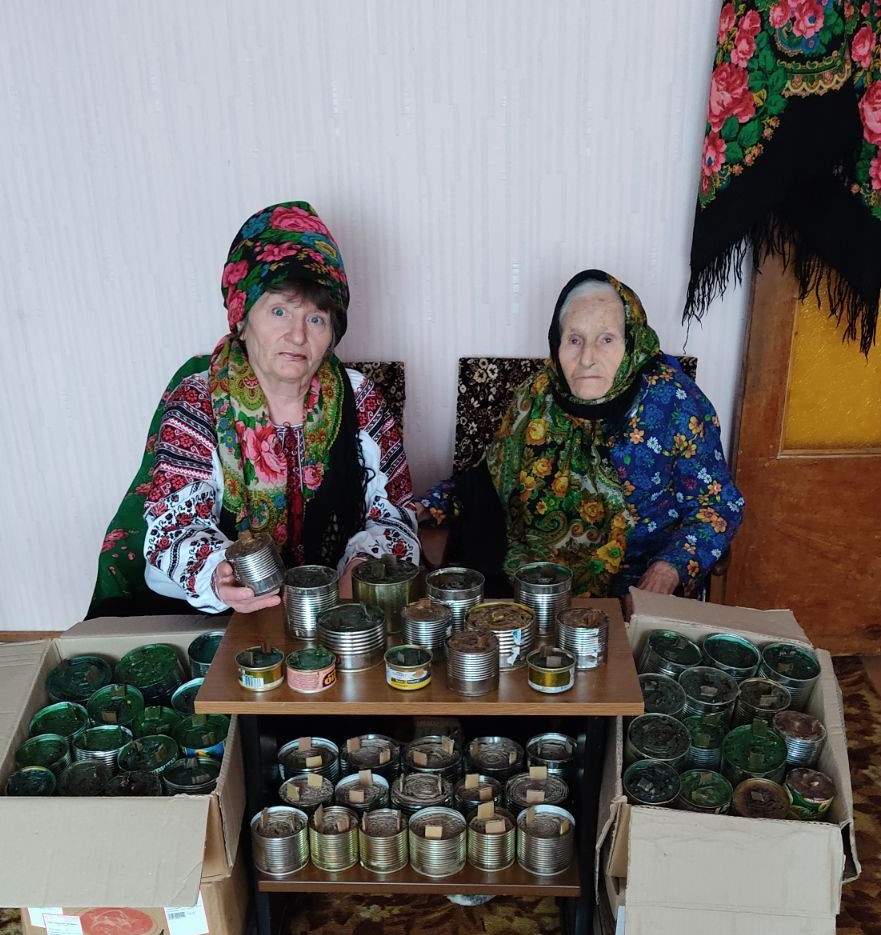 Olena Vladymyrets with her daughter Nina.
Every day, she twists meters of cardboard with her exhausted hands and fills cans with them. And daughter Nina pours melted wax over them. It will be cold – and the trench candle will be sent to the front, where it will give warmth to the defenders of Ukraine. In a day, mother and daughter could make fifty such candles or even more if only there were materials, the most scarce of which are wax and paraffin. But the biggest dream of the volunteers is that there is no need for these candles. Nina Vladymyrets says: when peace comes, she will gladly light those candles on the main square of the city in honour of our victory.
"Both sisters did not survive the Holodomor. Mariika was only five months old…"
Ms Olena was born on 4 November 1929. Her destiny was to survive the Holodomor, the only one of three sisters. "We lived in the village of Tomashpil, Khmilnytskyi district, Vinnytsia region. My parents had three of us: the eldest, Larysa, was born in 1927, I was in 1929, and the youngest, Mariika, was born in 32. Both my sisters did not survive. Mariika was only five months old…"
"During the Holodomor, I was very young but I heard from my parents that before collectivization people lived well. People who worked, lived well. And when people began to be driven into collective farms, the borders of people's fields were plowed, then Stalin gave the order to take everything from people so that there would be something to sow those fields. The hunger was such that exhausted people just fell down on the street, and sometimes they ate each other," Ms Olena says.
She calls the Holodomor "Stalinian" because it was on Stalin's instructions that people were starved to death.
"Then they took away all the bread from the people. You know how they used to say: "Lenin told Stalin to take the "surplus" from the people, and Stalin thought: take it all the rest!" So they took it away. My mum somehow earned some groats, poured them into a pot to cook. They put it in the oven and covered it with mugs of water, as if the water was being heated. The activists broke in, poured out that water, and they pulled out that cauldron with cereal and poured it all into a bag. Neither tears nor persuasion helped. And so all the people were deprived of everything, that's why the hunger strike started. People were left with nothing! Someone was lucky: someone buried some food supply somewhere and they were not found but someone who had nothing died. My mother told me that there were two uncles who travelled around the village collecting the dead. They entered the house – one was lying dead, and the other was still alive. "I'll have to go get it tomorrow or the day after tomorrow," they said. So they took both of them and threw them into the same pit. The one who was alive died in that pit by the evening."
"In the winter of 1947, my mother went for food to Western Ukraine seven times"
"I have already survived two wars during my lifetime. And this is the third one. Why do I say two? Because the first one was Finnish. And although it was not conducted on our territory, my father, Oleksandr Solomonovych Tsvilyk, was taken away. Thank God he was back. But many men from our village were killed in that war, and their families were orphaned," Mrs Olena continues.
And her father did not return from the Second World War. He was taken to the war at the age of 43 in January 1945, and the funeral came in April. The youngest brother, born on 1 June, never knew his father.
Mother, Marta Ivanivna, was left alone with small children, among whom Olena was the oldest.
"Our parents had eight of us in total," the woman says. – Larysa, Maria, Lida, Oleksandr, Ania, Nina, Kolia and me. But there are exactly four of us left; Lord took four more there," the woman tells a hard family story. Larysa and Maria died in 1933, and Oleksandr "burnt" from pneumonia when he was still very young.
"He was so good-looking, like a girl. He looked at so cutr with his pretty eyes… And what could you do to help him? The fever was so strong… That's how he died. He was only three years old," Ms Olena, as the eldest, saw all her sisters and brothers, recalls…
Another sister, Nina, died tragically at the age of 18. "She was already engaged – She was supposed to get married. She went to get clay to decorate the house before the wedding. There was a landslide and she was buried under it there. Until they found her, until they dug her up… They didn't save her – the earth killed her…" Olena Oleksandrivna shares her experience.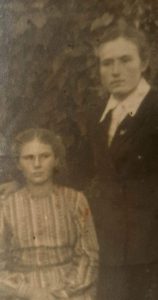 With her sister Nina (on the left), 1957. In the same year, Nina tragically died.
And in 1946-1947, there was a famine in Ukraine again: exorbitant plans for grain procurement for collective farms, plus a poor harvest of vegetables and grains were announced.
"I was already older, I was in my 17th year, I remember that time well," says Ms Olena. – Mother and the five of us were already without our father. We did not have a potato harvest that year. But there was a good harvest in 1945, that's why many people buried the barabolka (potatoes), who had extra. It stayed there during winter and summer, and when there was no harvest, people began to dig up those pits. I used to go to the station with my mother – it was like that, Kurylivskyi. There lived a man who buried a lot of barabolkas, he was in charge of the roads (railway. – Author) and had a lot of fields, so he had a good harvest. And so my mother and I used to go to pick up those potatoes all day. If we chose three buckets, then he also gave us a bucket. Mother would grind the barabol, which was often already rotten, and add a little of something they gave her in the collective farm, and that was what we ate… And what did they give in the collective farm? A person worked all day, and in the evening, they gave 200-300 grams of groats, and that groats with chaff… We took the groats and barabolkas, dried them, ground them on a millstone – and mum baked some a sort of bun because, forgive me, God, it could not be called bread.".
In order to survive, Ms Olena's mother, along with other women from the village went to Western Ukraine in the winter of 1947 to exchange some things for food. "Seven times mother went there! They took what they had better at home: linen, towels, and other things. It was not an easy road: they travelled in wagons, and they were caught, removed from the train… And I, 16 years old, stayed at home alone with the children. Mother would come from Western Ukraine, bring some of that grain, so we would keep some for ourselves. And we would take the rest and go to the market in Bykiv, 8-10 kilometers away. There, mother would sell grain and buy some clothes – jackets, skirts, a dress, a suit, handkerchiefs, so that they could go to Western Ukraine with it again – they exchanged everything. I looked at those clothes and I really wanted that dress or skirt, as I was a girl! But what could I tell my mother? At home, there were even smaller children who asked to eat"…
Not only people were starving, but livestock too. "We had a cow, but we had nothing to feed it. No hay, no beets, not even potato tops. We fed it so "well" as it could no longer stand on its feet. Mum came and said that they would not go again. From the grain that she was brought, some bran will be mixed and given to the cow to drink. We saved it, thank God, and we already had milk. It was difficult, but easier than in 33…"
"The first money in the collective farm we got paid in 1958"
I completed only five grades of school. Then I had to go to the neighbouring village, and I had nothing to wear or put on shoes. "That's how my school ended," the woman sighs sadly.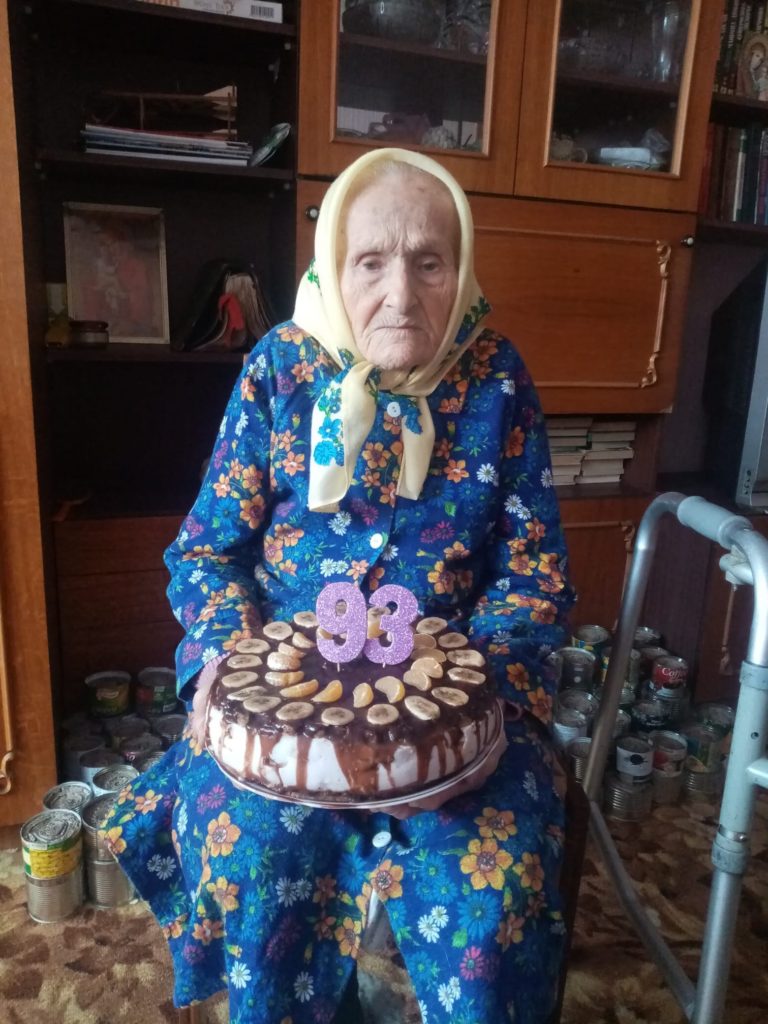 On November 4, Olena Vladymyrets turned 93 years old.
"We got paid the first money in the collective farm in 1958," she recalls. — And, before that, they did it for sticks ("trudodni"- labour days. — Author). If you went to work – they put a stick, but if you did not come – there was none. From the age of 15, I worked in a collective farm. And from 16б they already gave me half the norm of weeding beets. Older women already know this job: they did it fast. And I didn't learn that yet – I'm lagging behind… Later I used to work as a milker – there were 18-19 cows in the group until you milk them – you can't feel your hands. And it was necessary to feed all of them. And everything by hand."
When the seasonal work on the collective farm field ended, Olena got a job at a sugar factory in a nearby Uladivka.
"Many of our people went there. The work was hard – we had to load beets. I loaded them same as men with such six-pronged pitchfork. As soon as you start throwing, it will get dark while we load the wagon. And as soon as the money is paid – 28-29 rubles, I even didn't get 30 – then I run to my mother to pay the taxes as soon as possible, so that those agents don't come around the windows and don't have me by the throat. At the same time, the communists demanded a certain amount of meat and eggs. If no – pay money tax. And where to get them in the collective farm, if they don't pay!"
And then there was marriage, the birth of a son and a daughter. However, it was not easy: the husband was very ill – he had a sick heart when he was still young… And again the troubles and daily work, and also the household and the garden…
To earn some money I learned to sew and goldwork (embroidery). Goldwork is painstaking work. That's how you work all day on the collective farm, and then, you sew and embroider until nightfall – curtains, bedding… I just went to bed, and again it's a new day…
"My brother had to flee the war at the age of 78"
"I've worked hard all my life, but I can't sit idle. Although I have problems with my legs but my hands want to do something. Today, my daughter went about her business, but she didn't leave the cardboard for me, and I got really bored. I'm bored without work," Olena Oleksandrivna says.
"Maybe you have some work, then send it to my mum, she will do it," Nina Adolfivna, her daughter, jokes, overhearing our phone conversation. "But I will," Ms Olena laughs in response. "If only our victory was closer."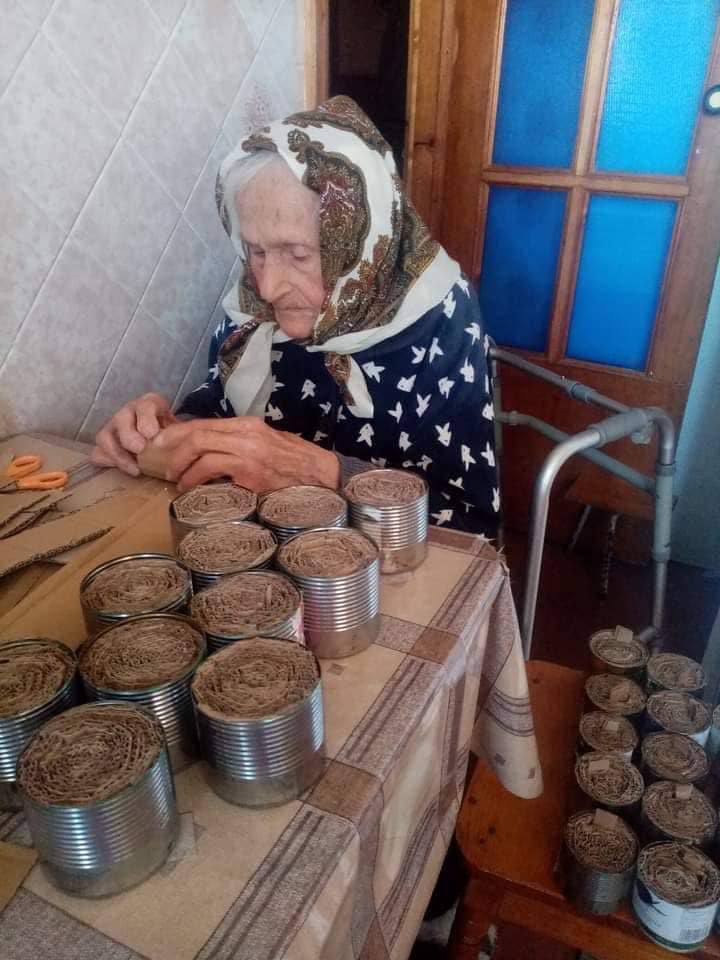 Working. "If I could, I would make the sky bow down to our soldiers."
But in a moment, her voice becomes sad again: "I want our youth to live. They haven't had time to live yet. This war brought so much grief," says the woman, whose heart aches for every lost soul.
Oena's family was also affected by the war. "Only two of us, my youngest brother and me, remained from a large family, two sisters has already passed away. But even he, at 78 years old, has no peace. I had to leave my native home in Kharkiv Oblast, where it is constantly banging. There, they had a shed, a cellar, and a summer kitchen, and the doors and windows were broken. They had to flee from that terrible judgment. We asked them to leave for a long time, they did not agree – it is hard to leave the native house, everything that is made and nurtured with your own hands. Moreover, at such an age… But they had to. They live now in my house in Tomashpol. But they are happy that at least they don't hear explosions here."
"We lived a hard life, and we thought that at least it would be easier for our children and grandchildren. And you see how it is? And how much more will our people should suffer until we win and restore Ukraine… But we are strong, and together, we will survive both hunger and cold and this cursed war, – my interlocutor says with faith and optimism. "And Putin will boil in tar because simple death will not be enough for him."
Perhaps, in the imagination of the Kremlin madman, people like 93-year-old Olena Vladymyrets are the "Nazis" against whom he is fighting in Ukraine. Because inside them, despite the hard fate, there is light. But this cannot be understood only by someone who has complete darkness in his soul…
Lina TESLENKO,
National Museum of the Holodomor-Genocide