"Intent": The Holodomor Museum presents a new exhibition
On 23 November 2023, the National Museum of the Holodomor-Genocide will open an exhibition that offers to look at the facts of the Holodomor and the crimes of the Russians committed in Ukraine during the full-scale invasion during the years 2022-2023 through the concept of the crime of genocide, in which the proof of specific intent is of key importance.
The exhibition was prepared in partnership with the Military History Research Centre of the Armed Forces of Ukraine with the support of Arseniy Yatsenyuk Foundation "Open Ukraine".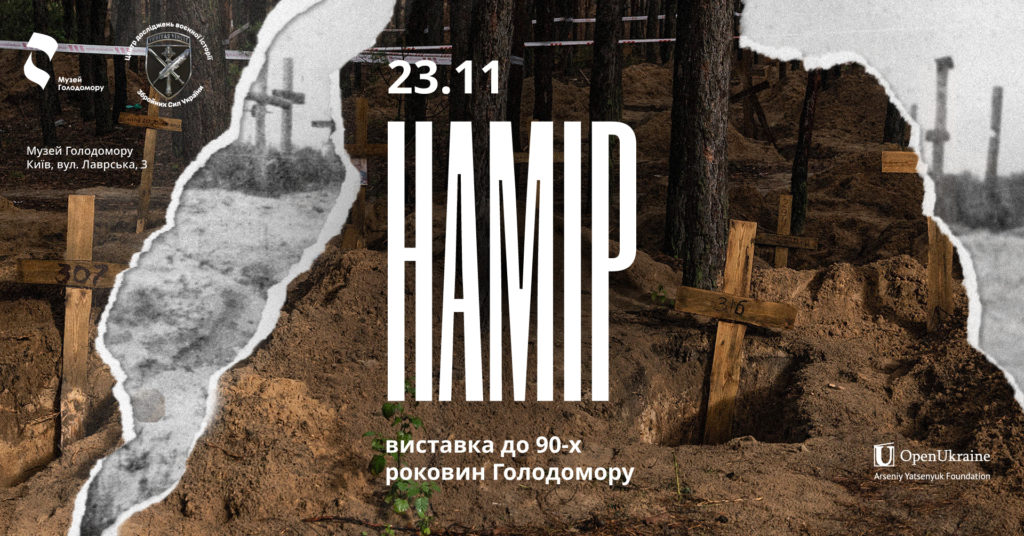 Russia has always denied the Holodomor. This shows that it did not abandon its intention to repeat the genocide against Ukrainians. And over time, it moved from denials to the implementation of this intention, starting a full-scale war against Ukraine in February 2022, accompanied by numerous killings and violence against Ukrainian civilians. These actions have signs of genocide, which is emphasized by lawyers and historians.
The presentation will take place on 23 November at 2:00 p.m. in the Hall of Memory of the National Museum of the Holodomor-genocide (Kyiv, 3 Lavrska Str).
Media accreditation is required!
Register via the link http://surl.li/ncwzv or by phone number (044) 254-45-11.