We invite you to the discussion "Politics of memory: how to build new narratives"
On Sunday, October 8, "Horobri Mista" ("Brave Cities") forum will be held in the Mystetskyi Arsenal, organized by the Ukraïner team.
The key goal of this charitable event is to raise UAH 10 million for demining liberated territories together with the "Povernysia Zhyvym" ("Return Alive") fund.
The participants of the event will have the opportunity to virtually "visit" the de-occupied territories with the help of the VR-video of the documentary project "De-occupation", and thanks to the eyewitnesses' stories, they will more fully experience everything that happened there. Guests will also be able to visit a photo exhibition of photos from Ukrainian de-occupied cities taken by Ukraïner photographers.
At the same time, as part of the charity event, there will be several panel discussions about the challenges awaiting us after the liberation of the occupied territories.
We will join one of these discussions – "The Politics of Memory: How to Build New Narratives".
Time 12:15 – 1:45 p.m.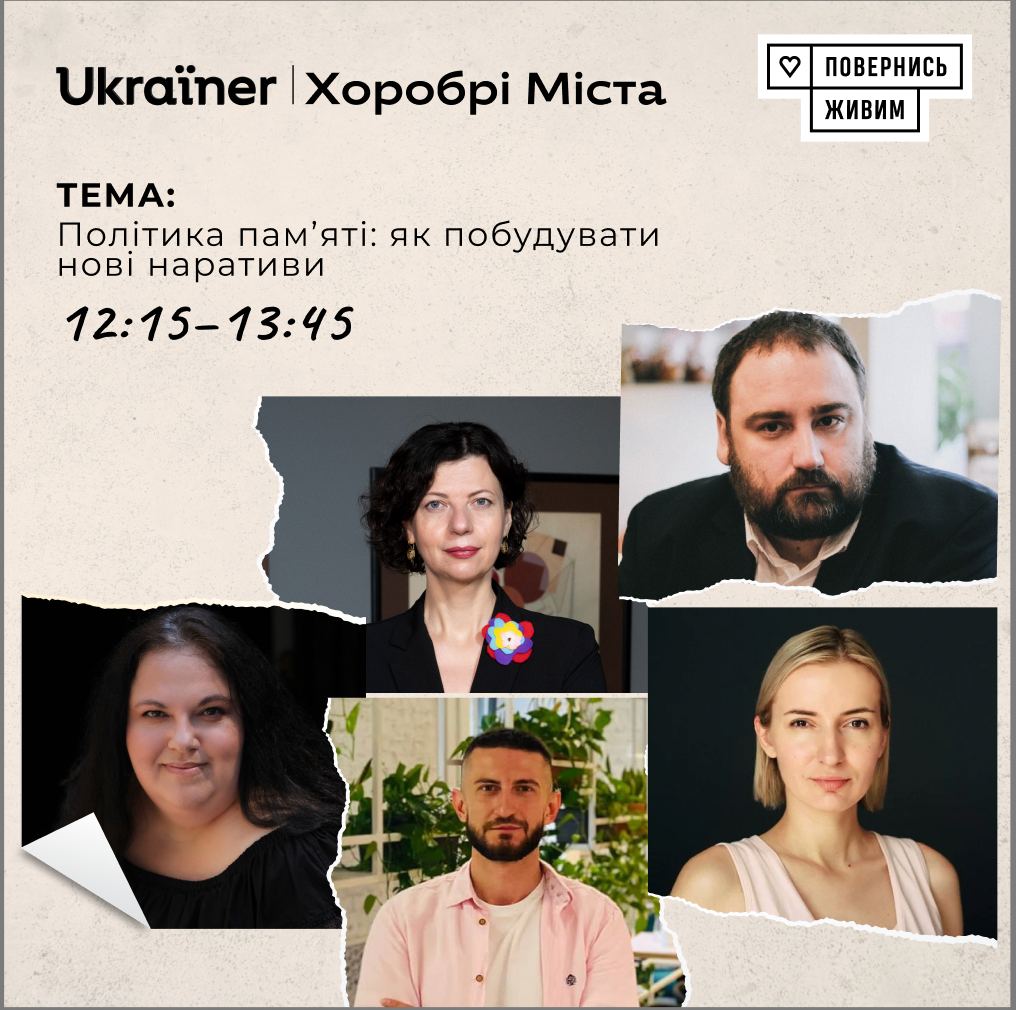 The following will take part in the discussion:
Lesia Hasydzhak, Acting Director General of the National Museum of the Holodomor-genocide;
Alim Aliyev, Deputy Director General of the Ukrainian Institute, member of the Executive Board of the Ukrainian PEN;
Yevhen Hlibovytskyi, an expert on long-term strategies;
Olesia Ostrovska-Liuta, art manager and curator of contemporary art, director of the National Complex "Mystetskyi Arsenal".
The moderator is Darka Hirna, journalist, author of documentaries and YouTube channel "Face of Independence".
The conversation will be about how to debunk the myths that have shrouded our past for years and centuries; how to distance yourself from the idea of "brotherly people" and other imposed contexts; how to talk about history today, to declare one's ancient Ukrainian identity and to create honest narratives.
Entry to this and other discussions is free upon prior registration (you can register here http://surl.li/lvzjb). It will also be possible to join the viewing online on the Ukraïner YouTube channel.
We would like to add that the main event will be a charity concert, at which the bands "Kryhitka", and "Druha Rika", artists Palindrom, Sasha Chemerov, Otoy, and Lilu45 will perform. The entrance is for a donation. During the concert, there will be an auction with artefacts from musicians and the military.
Topics of other discussions and more about the
"Horobri mista" forum can be found at the link: https://bravecities.ukrainer.net.