A monument to the victims of the Holodomor will be erected in Vancouver
Representatives of the Ukrainian Congress of Canada (UCC) and Mayor Kennedy Stewart met in Vancouver, Canada.The participants discussed the idea of erecting a memorial to the victims of the Holodomor of 1932-1933 in this most populous city of the province of British Columbia.
The Ukrainian Congress of Canada announces this on their Facebook page.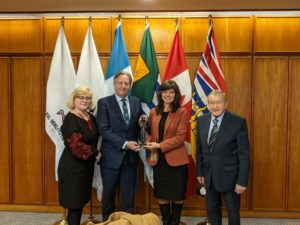 The future monument should appear as a sculpture "Bitter Memory of Childhood," created by artist Petro Drozdovskyi. It is a figure of a girl holding five ears of grain to her chest. This sculpture was erected near the National Museum of the Holodomor Genocide in Kyiv, as well as in Toronto, Winnipeg, Regina (Canada), and Khoruzhivka in the Sumy region.The girl with ears of grain became a symbol of insecurity, fear, and despair of people executed by the communist regime.
Vancouver is the third-largest city in Canada. Quite a sufficiently large Ukrainian diaspora lives there.