A strong army is a guarantee of the integrity and independence of the state
On July 28, we celebrated the Day of Ukrainian Statehood for the first time. Today, when Russia is waging a war to destroy our independence and sovereignty, this holiday takes a special significance. The Holodomor Museum team has prepared a series of publications dedicated to the Day of Ukrainian Statehood. They tell about the mistakes and blunders Ukrainians made at the beginning of the last century, which led to the loss of their statehood and later to the Holodomor of 1932-1933.
Most Ukrainian politicians adhered to pacifist views at the initial stage of the Liberation Struggle of 1917–1921. The leaders of the Ukrainian Central Rada hoped that all controversial issues of international life, particularly those arising in relations with Russia, could be resolved through political and diplomatic means. Therefore, they did not pay due attention to the strengthening and development of the armed forces.
Many legislative initiatives of the Central Rada caused misunderstanding and dissatisfaction in the military environment. So, for example, when passing the law on the formation of the Ukrainian People's Army, parliamentarians made such changes to it that destroyed military subordination, deprived officers of any authority, reducing them, in fact, to a kind of military training instructors. The premature and ill-conceived law on demobilization led to the final decline of military discipline. All this happened against the background of a total lack of funding and material and technical support.
After communist Russia launched open aggression against Ukraine in early 1918, the national army had to be rebuilt almost from scratch. During 1919–1920, Ukrainian soldiers selflessly defended their homeland from Russian invaders. However, our army could not correct all the politicians' mistakes at that time.
After the Russians finally occupied Ukraine in 1920, former soldiers of the Ukrainian People's Republic became one of the main targets of Soviet repression. The invaders' special hatred for the Ukrainian military later reflected in the Kremlin's genocidal policy. During the Holodomor of 1932–1933, there were cases when this or that village was put on the "black boards" only because famous soldiers of the Ukrainian People's Republic came from it.
The purpose of the army is to be a guarantor of the integrity and power of the state. Therefore, a state that does not care about its military is doomed.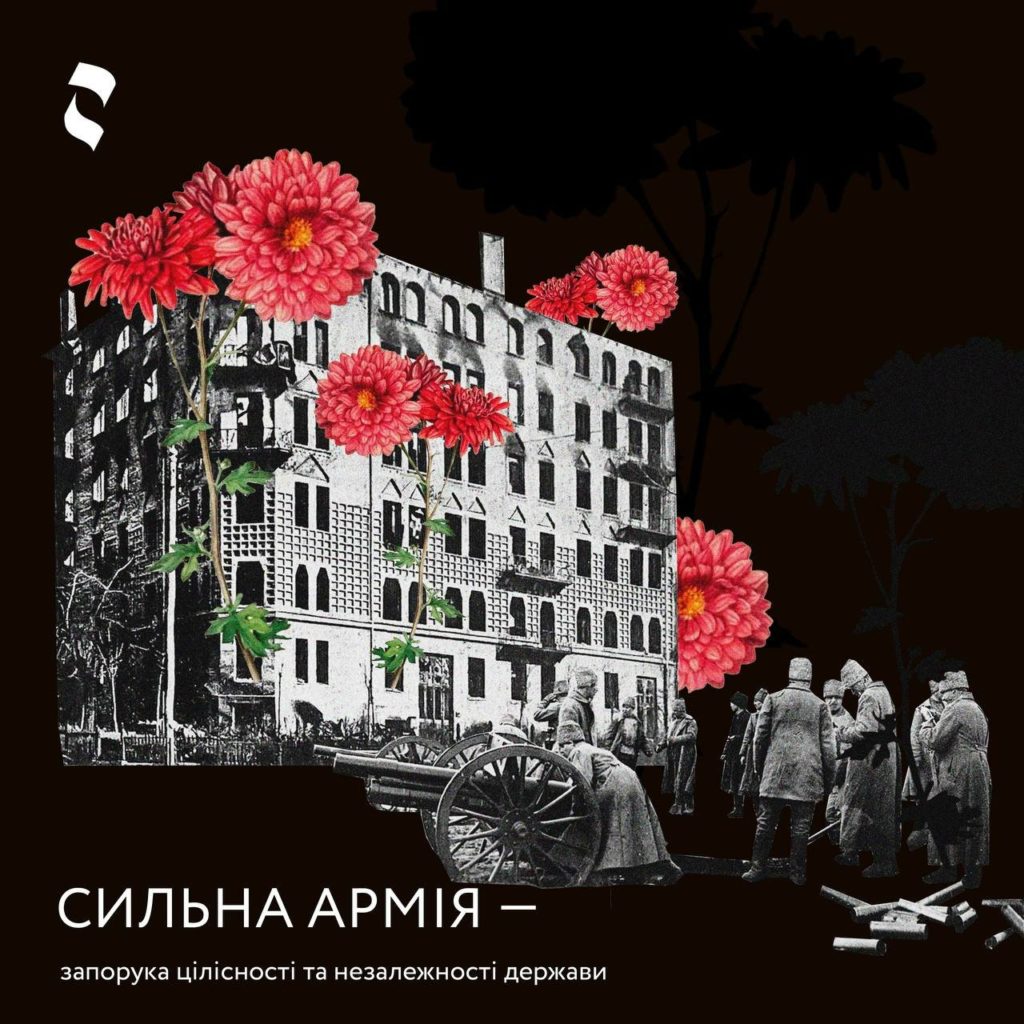 Illustration @olgazernoo.