Exhibition "The Holodomor through the eyes of Ukrainian artists" in Washington
An exhibition in the center of the US capital displayed approximately 70 works of art depicting the Holodomor in Ukraine of 1932-1933.These are paintings, engravings, posters, and other works of artists – eyewitnesses of the terrible tragedy. The exhibition "The Holodomor through the Eyes of Ukrainian Artists" is located in the Ukrainian House in Washington, Ukrinform reports.
"It is very, very important to tell clearly about this tragedy, this catastrophe because images are worth more than a thousand words," said Morgan Williams, owner of the art collection and co-organizer of the exhibition and president of the American-Ukrainian Business Council.
According to his words, part of this exhibition was first exhibited in Kyiv in 2000. But at that time, only a small group of activists supported the initiative. Many changes have occurred since then, and the truth about the Holodomor genocide is now spreading around the world.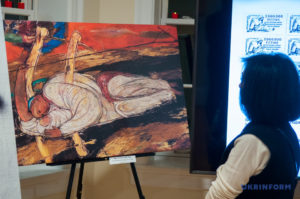 Marianna Falkova, director of the Ukrainian House in Washington, said that numerous guests were invited to the exhibition opening, including diplomats, journalists, activists, representatives of business circles, the clergy, and partner organizations.
"It is in our interest to show Americans how this really happened so that they can feel the tragedy. In addition to the presented images, we also tried to recreate the life of Ukrainian settlements of those years so that you could feel this atmosphere, "- said Marianna Falkova.
Ukrainian Ambassador to the United States Oksana Markarova told Ukrinform that the exhibition was one of the ways to bring the truth to the world that the Holodomor was not caused by crop failure, as kremlin propaganda claims, but by Moscow's purposeful policy.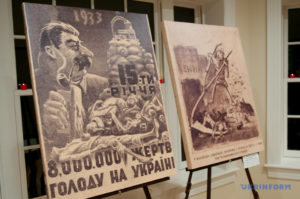 "For us, the memory of the Holodomor is important not only as a tribute to those who died and killed by the communist regime but also because, unfortunately, unpunished crime always comes back," Markarova said.
She stressed the need to bring to justice the regime that organized the genocide at the time, especially given that its followers are now committing aggression against Ukraine.
The Holodomor through the Eyes of Ukrainian Artists exhibition will be on display in Washington until December 3. It was organized by the Ukrainian House, the American-Ukrainian Business Council (USUBC) with the support of the Embassy of Ukraine in the United States.