In Ukraine, the Russians destroyed about 100 libraries
Due to the Russian aggression in Ukraine, about 100 libraries were destroyed, and in those that survived in the occupied territories, the Russians destroyed Ukrainian-language books. Rostyslav Karandieiev, First Deputy Minister of Culture and Information Policy of Ukraine, announced this at a briefing, "Ukraina Moloda" informs.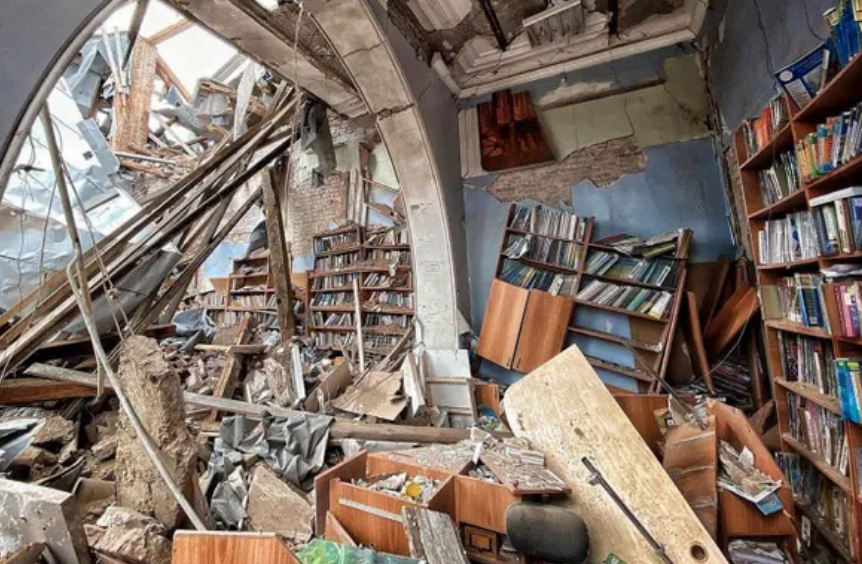 The destroyed library in Chernihiv. Photo – UNIAN.
"This is a characteristic feature of Russia – to destroy the native language, to impose its own rules of life. Libraries in the Donetsk, Kyiv, Mykolaiv and Kharkiv regions were the most affected. 101 libraries have lost a significant part of their funds, and 21 libraries have not preserved a single document," Karandieiev noted.
Today, the Ministry of Culture is working on removing propagandistic Russian literature from Ukrainian library collections. The seized books will be recycled for Ukrainian publishers.
Since April, the number of destroyed objects of cultural infrastructure of Ukraine has increased five times — 836 objects of cultural infrastructure were damaged, not including monuments of cultural heritage.
Despite this, book printing in Ukraine is developing. Almost three quarters of Ukrainian book publishers resumed full-time work in July.