Norway is called on to recognize the Holodomor as genocide of the Ukrainian people
The Embassy of Ukraine in the Kingdom of Norway calls on the heads of state to join the list of countries that recognized the Holodomor as genocide of Ukrainians. Ambassador of Ukraine to Norway Viacheslav Yatsiuk also called on the Norwegian government to support the construction of a memorial to the victims of the Holodomor in Ukraine in Oslo. The website of the Embassy reports about this.
"As today, 90 years ago, the then Kremlin rulers were convinced of the impossibility of their empire without Ukraine. With the help of the Holodomor, the Stalinist regime tried to undermine the will of Ukrainians to freedom. Dozens of countries with which Norway shares common values ​​and interests have already recognized the Holodomor crime as genocide of the Ukrainian people. Ukraine hopes that Norway will soon join the circle of these states," Viacheslav Yatsiuk emphasized in his speech on the occasion of commemorating the Holodomor victims of 1932-1933. The mourning event took place in the main political square of the country in front of the Norwegian Parliament – the Storting.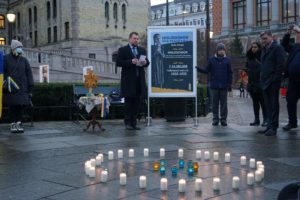 Deputy members of the Storting, activists of Norwegian public organizations(NPO), representatives of the Ukrainian Norwegian community, and Ukrainian diplomats were present to honor the memory of Ukrainians killed during the Holodomor with a moment of silence and candlelight.