On November 9, join the Radio Dictation of National Unity
On November 9, 2021, on the occasion of the Day of Ukrainian Writing and Language, Ukraine traditionally writes the Radio Dictation of National Unity.
This year it will start at 10:00, Ukrainian Radio reports.
The author of the text and the reader of this year's Radio Dictation will be the cult Ukrainian writer Yurii Andrukhovych. Larysa Masenko, a Ukrainian linguist, Doctor of Philology, professor of the Ukrainian language department at the National University of Kyiv-Mohyla Academy, and a leading researcher at the Institute of the Ukrainian Language of the National Academy of Sciences of Ukraine, will join the methodical work on the Radio Dictation of National Unity.
A dictation writing studio for guests is set up in the reading room of the Vernadsky National Library and in the Radio Hub of the Academy of Public Broadcasting, where famous Ukrainians will write dictation in compliance with quarantine requirements.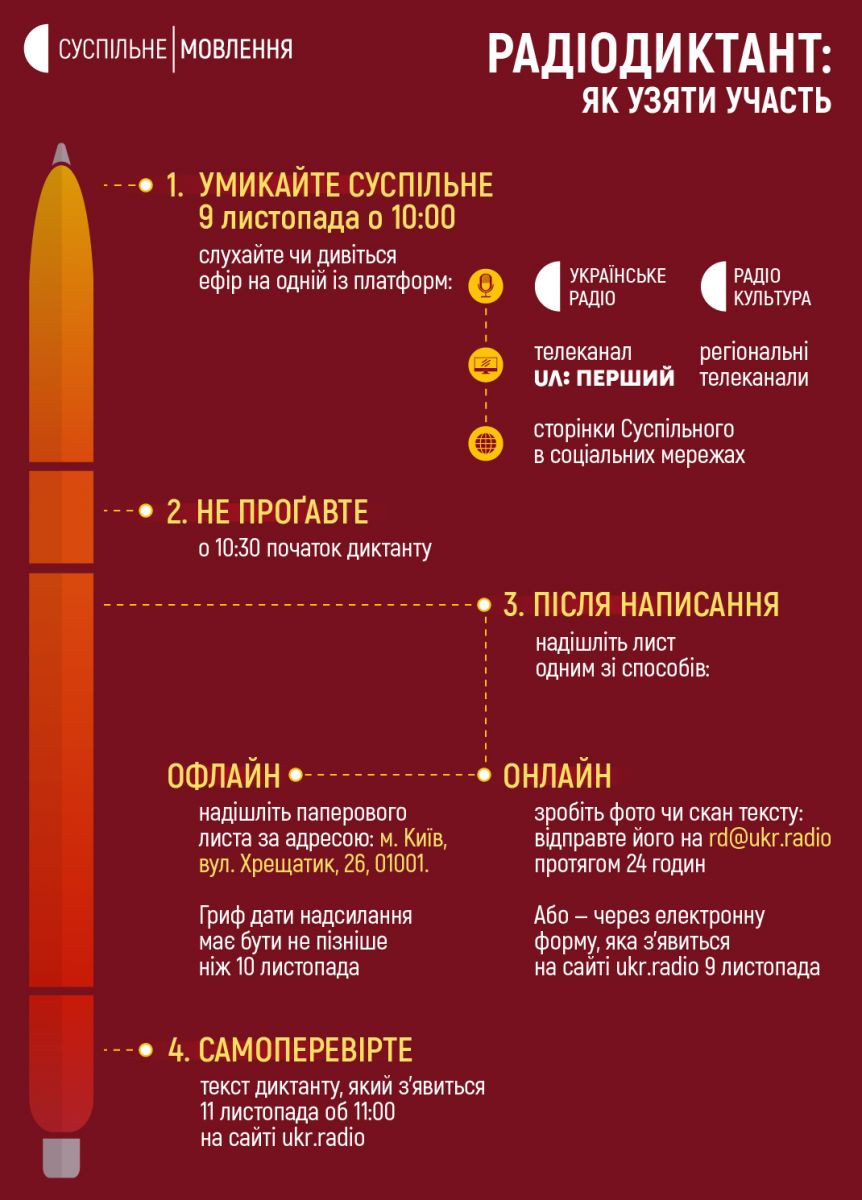 The flash mob will be broadcast on Public TV channels and digital platforms, expanding its reach beyond the confines of the radio format. Thus, the special broadcast of the Suspilne Studio will be broadcast on the national TV channel UA: PERSHYI, regional public broadcasters, YouTube channel UA: PERSHYI, and on the Facebook pages of Public Broadcasting, UA: FIRST, and Suspilne regional branches. And, traditionally, Radio Dictation will be heard all over the country on the airwaves of Ukrainian Radio and Radio Culture (also on the YouTube channel and Facebook pages of Ukrainian Radio and Radio Kultura).
Participants have 24 hours to send the finished text. The text of the dictation will be published on the website of Ukrainian Radio 11 November at 11:00.
Entries will be accepted online and offline. The paper letter should be mailed to Kyiv, street Khreshchatyk, 26, 01001. The date of dispatch must be no later than November 10. You can send your work to [email protected] online. After the dictation is published, no e-mails will be accepted.
A special professional commission will review all submitted works.Works written without errors will receive gifts from project partners. The results will be announced within one or two months, depending on the number of letters received.
Join the Radio Dictation of National Unity – test your knowledge and join the event that unites Ukrainians all over the world!