Andriy Ivanets gave a lecture to the students of the National University "Chernihiv Collegium"
On November 4, 2022, Andriy Ivanets, a leading researcher at the Holodomor Research Institute of the National Museum of the Holodomor-Genocide, candidate of historical sciences, gave a lecture for third-year students of the Educational and Scientific Institute of History and Socio-Humanitarian Disciplines named after O.M. Lazarevsky of National University "Chernihiv Collegium" named after T.H. Shevchenko.
"The Crimean Tatar people are an indigenous people in Crimea, and therefore in Ukraine as a whole. Since 2014, this has been enshrined in a special resolution of the Ukrainian parliament, and since 2021 in the law on indigenous peoples of Ukraine. Therefore, the history of the Crimean Tatars is part of the common past of the Ukrainian political nation, and by getting to know it, we, the citizens of Ukraine, learn more about ourselves," Andrii Ivanets thinks.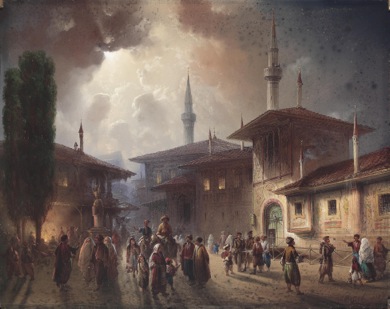 Painting of the 19th century "Khan-Sarai"
The lecture discussed the situation of the Crimean Tatar people after the annexation of Crimea by the Russian Empire in 1783. The lecturer paid considerable attention to the period of national revival of the Crimean Tatars, initiated by the publication of the Terdzhiman newspaper in 1883. Andriy Ivanets helped students understand that the rule of the Russian Empire became a hard experience for Crimean Tatars in all spheres of life, in particular, it caused numerous waves of mass emigration of Crimean Tatars from their native land. Only in 1860–1862, more than 192,000 people left Crimea and Northern Tavria for the Ottoman Empire. The period 1783–1883 ​​really became a "black century" in the people's history. The activities of Ismail Gasprinskyi, Asan Nuri, Noman Chelebidzhikhan and others marked the day of the national revival of the Crimean Tatars, which prepared their next national liberation competitions.
Ismail Gasprinskyi with the newspaper "Terdzhiman".
In his lecture, Andriy Ivanets drew parallels between the past and present of Crimea and the Crimean Tatar people.
Iryna Petrychenko, associate professor of the Department of History of Ukraine at the National University "Chernihiv Collegium", said that the meeting with the historian aroused considerable interest in the student audience, as evidenced by the students' questions to the lecturer. The lecture was filled with a sense of patriotism, the understanding that Crimea is an integral part of sovereign Ukraine, to which it will definitely return, the professor emphasized.
Press service
Holodomor Research Institute