Holodomor Museum at Book Arsenal
Scientific and popular publications of the National Museum of the Holodomor Genocide are presented at the X International Book Arsenal Festival on the shelves of the Museum Space store.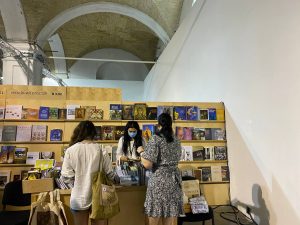 In particular, the museum presented the brochures "Stolen Childhood. Children during the Holodomor of 1932–1933", "The Holodomor: Destruction of Identity", "We ​​Were Killed Because We Are Ukrainians", "The Church in Defense of the Christian and the National", the books The Holodomor as Genocide by V. Serhiichuk, The famine of 1946–1947 in Ukraine: Collective Memory and Joseph Stalin—Field Marshal of the Holodomor by V. Marochko, Proceedings of the Conference "The Problem of Existential Choice during the Holodomor-Genocide", Raphael Lemkin. Soviet Genocide in Ukraine, a collection of documents and materials "Blackboards" of Ukraine. Chernihiv region.
The stand of the Museum space is located at location B3.02. You can visit the festival on June 23–27, 2021 from 10:00 to 22:00.
The Book Arsenal International Festival is an annual project of the Art Arsenal, founded in 2011. This is an intellectual event of Ukraine, where book, literary, visual, musical and theatrical scenes develop and interact, important issues of human existence, as well as society and culture are raised and comprehended, encouraging a proactive position of participants and visitors.