Museum Team met with Polish colleagues from the Polish History Museum and Polish Institute in Kyiv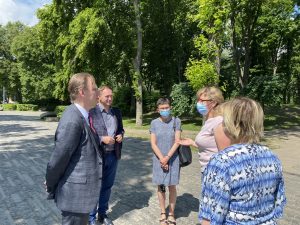 On June 10, the Holodomor Museum team met with colleagues from Poland: Anna Piekarska, Deputy Director of the Polish History Museum, Wojciech Kalwat, Head of International Projects at the Museum, and Robert Czyzewski, Director of the Polish Institute in Kyiv and advisor of the Embassy of Poland to Ukraine.
Employees of the Holodomor Museum conducted a sightseeing tour of the museum, told about the team's plans and shared their museum experience.
The teams discussed possible future cooperation.
It will be recalled that the National Holodomor Museum and the Polish History Museum are members of the Platform of European Memory and Conscience. This international project studies the activities and crimes of totalitarian regimes in Europe in the twentieth century.