President of Lithuania Gitanas Nauseda visited the Museum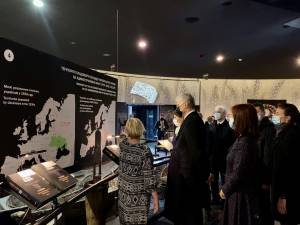 On March 18, 2021, Gitanas Nauseda, President of the Republic of Lithuania, visited the Holodomor Museum. Together with First Lady Diana Nauseda, they saw the museum's exhibits and placed a decorative composition of wheat and viburnum ears to the Bitter Memory of Childhood sculpture.
"How horrible was the communist totalitarian regime, how much blood was shed for its crimes,"  Gitanas Nauseda said.
The President of Lithuania and his wife listened to the tour, learned the history of the Holodomor and met with the director of the Holodomor Museum Olesia Stasiuk. The Holodomor Museum gifted English-language publications on the history of the genocide of the Ukrainian nation to the guests' personal library.
It will be recalled that the Republic of Lithuania recognized the Holodomor as an act of genocide on November 24, 2005:
"The Sejm … recognizes that in 1932–1933 the Stalinist communist regime carried out a deliberate, carefully planned genocide of the Ukrainian people."
And in 2020, the Holodomor Museum presented an audio guide in 33 languages, including Lithuanian.
According to the Office of the President, Lithuanian President Gitanas Nauseda will pay an official visit to Ukraine on March 18–19, 2021.