In Paris, the Holodomor victims were commemorated
Events dedicated to the 89th anniversary of the Holodomor in Ukraine took place in the capital of France on November 14.
The Day of Remembrance for the Innocent Victims destroyed by the man-made famine during the Stalinist regime began with a flower-laying ceremony at the Tomb of the Unknown Soldier beneath the Arc de Triomphe and followed by an Episcopal Divine Liturgy in one of the most famous churches of Paris, Saint Sulpice, the UGCC website reports.
The event was attended by: Ambassador Extraordinary and Plenipotentiary of Ukraine to France, Mr. Vadym Omelchenko, Bishop Glib Lonchyna, and representatives of about twenty Ukrainian associations and organizations in France.
The Anthems of Ukraine and France performed by the Paris Choir of St. Volodymyr the Great were invariably played under the Arc de Triomphe.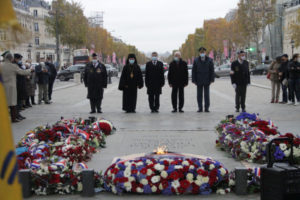 Excerpts from the memories of people who survived the genocide were read at the Episcopal Divine Liturgy in the Basilica of Saint Sulpice.
"During the Holodomor, there was a large-scale theft," says Htodora Oleksiyivna, so-called "activists" walked around the houses and took away bread, grain, money people hid. The grain was hidden in cauldrons, and the ones were placed in an oven then, but the "activists" found and took it away. Many people hid grain under the ground, but even those hiding places were opened, because the same "activists" walked with sticks stabbing them into the ground, looking for and taking away all the savings and stocks from people. "
After the Liturgy, a memorial service for the Holodomor victims took place with the participation of the priest of St. Simon Orthodox parish.