In Warsaw, they prayed for the souls of those who died during the Holodomor
On November 27, at the Holodomor monument in Warsaw, they honored the memory of millions of Ukrainians who died in 1932-1933 as a result of criminal activity by the Moscow communist regime. The monument is located in the Wola Orthodox Cemetery in the Polish capital.
According to Ukrinform, regarding the Embassy of Ukraine in Poland, Ukrainian diplomats, representatives of the Ukrainian community in Warsaw, students of the Ukrainian Saturday school took part in the commemoration.
During the commemoration, all present prayed for the souls of the dead, lit candles at the Holodomor Memorial, and laid sorrow ears of grains at the monument.
Ambassador of Ukraine to Poland Andrii Deshchytsia noted that the current generation of Ukrainians must be well aware of these tragic pages of Ukrainian history in order to do everything possible to ensure that this will never happen again.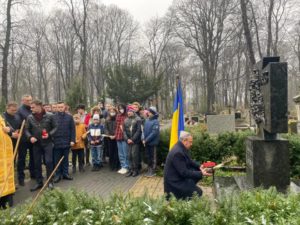 He noted that Ukrainians are now fighting an aggressor who tried to destroy Ukrainians and their identity several decades ago. According to his words, the struggle continues, and the memory of the victims should remind us of what Russia is able of.