The Hague tribunal begins hearings today on the genocide case
On Monday, March 7, the first session of the UN International Court of Justice in The Hague will hold on genocide charges under the Convention on the Prevention and Punishment of the Crime of Genocide (Ukraine v. Russia).
A specially created delegation will represent Ukraine at these oral hearings. According to the Decree of President Volodymyr Zelensky, the Ukrainian delegation included:
Anton Korynevych – Permanent Representative of the President in the Autonomous Republic of Crimea, Head of Delegation, Agent of Ukraine;
Oksana Zolotareva – Head of the International Law Department of the Ministry of Foreign Affairs of Ukraine, Deputy Head of Delegation, Deputy Agent of Ukraine;
Olena Zerkal – Ambassador Extraordinary and Plenipotentiary;
Taras Kachka – Deputy Minister of Economy of Ukraine, Trade Representative of Ukraine.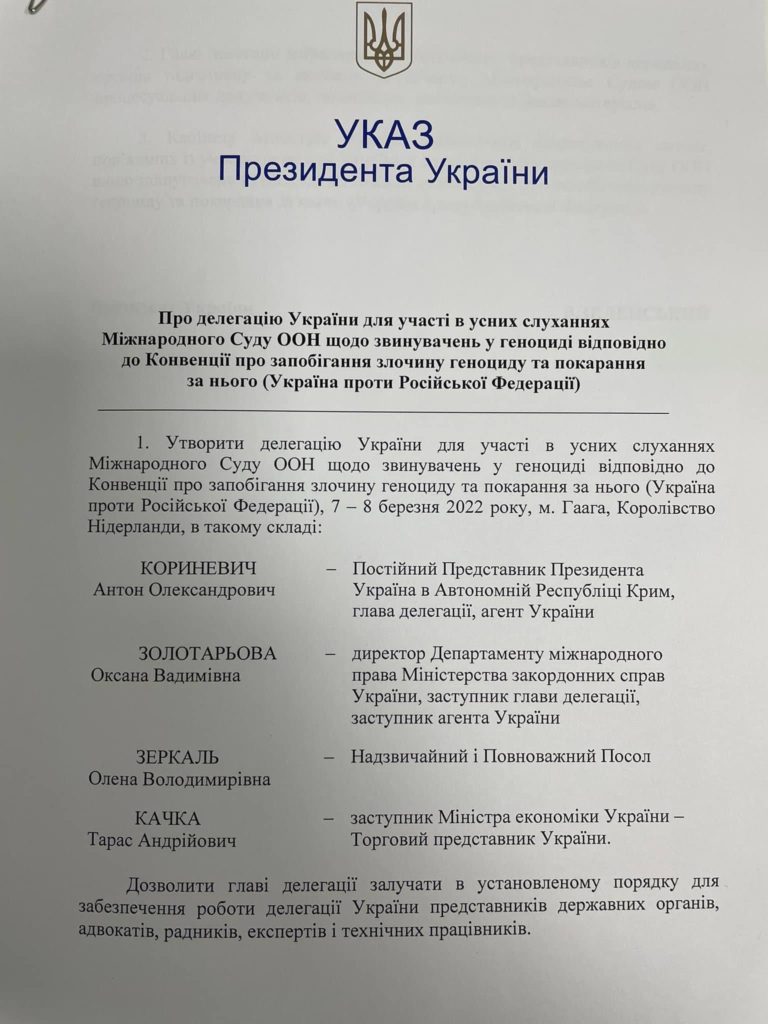 The head of the delegation also has the right to involve representatives of state bodies, lawyers, advisers, experts, and technical staff to ensure the work of the Ukrainian delegation.
The first oral hearing in the case will take place on March 7-8 in The Hague (Kingdom of the Netherlands).
It will be recalled that on February 27, President Volodymyr Zelensky announced that Ukraine had officially filed a lawsuit against Russia with the UN International Court of Justice in The Hague. "We demand that Russia be held accountable for distorting the concept of genocide to justify aggression. We ask the court to immediately order Russia to cease hostilities and schedule a hearing next week, "Zelensky wrote on Twitter.
The Kremlin has repeatedly stated the alleged genocide in the Donbas by Kyiv and the need to "protect from this genocide" Russian citizens in Donetsk and Luhansk.