The head of the UGCC Sviatoslav called on Ukrainians to join the campaign "Light a candle"
His Beatitude Sviatoslav, the head of the UGCC, called on all Ukrainians to join the nationwide campaign "Light a Candle" at 4:00 pm on November 27, 2021. "Let's light a candle not only for the dead but also for us, the living, and our unborn compatriots. As memory is what gives healing. May this candle of remembrance enlighten and warm Ukraine, become a ray of hope that Ukraine is and will be in the future," he said live on the Open Church program on Live Television. The guest of the broadcast was Semen Gluzman, a leading researcher at the Holodomor Research Institute, a human rights activist, a political prisoner of the Soviet camps, and the president of the Ukraine Psychiatrists Association.
During the broadcast, a story about the National Museum of the Holodomor-Genocide was shown.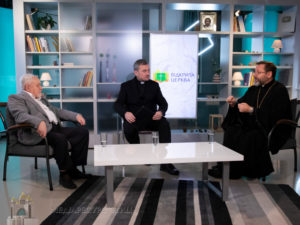 "Every year on the last Saturday of November, we rush to this memorial to pray. Following such a prayer, an elderly woman approached me and said, "My entire family died. I don't know where my relatives were buried, and I don't even have a place where I could light a candle for them," His Beatitude Sviatoslav recalled. "Only then did I realize how important this memorial is. Because people like this woman finally have a place on Ukrainian land, where they can come and light a candle for relatives who died during the Holodomor. "
He added that "it is a memory that gives life." "It feels a little healed. At the same time, it is also a tribute to those people whose dignity was taken away. Memory is what gives hope. Because if we forget, there will be no hope for the future," the head of the UGCC emphasized.
His Beatitude Sviatoslav reminded that the construction of the second stage of the Holodomor Museum is underway and called on all concerned to join the case, "Honoring the memory of the Holodomor victims is a nationwide affair.
Each of us must join in the erection of this memorial. Everyone must become a participant in this nationwide building. Not only the rich and the bigwigs, but every Ukrainian can contribute to the completion of this construction, "said the head of the UGCC.