The Holodomor-genocide victims were honored in Rome
On November 28, a requiem meeting took place in memory of the Holodomor-genocide victims of the Ukrainian nation in the center of Rome, on the Republic Square. As Ukrinform reports, the event was organized by the organizing committee "Euromaidan Rome."
"After the joint performance of the national anthem, the priest of the Cathedral of Saints Sergius and Bacchus, Father Taras Taras Ostafiiv, accompanied by the choir of the parish choir, held a memorial service for the millions of innocent killed by famine.I n short, the father noted that in praying for the genocide victims, it is essential not to incite hatred, but to spread the historical truth about this crime, " said Oles Horodetskyi, chairman of the Ukrainian Christian Society in Italy, coordinator of the organizing committee and leader of the meeting.
Later, the famous Roman singer Uliana Mykhailivna Kinash performed the song "Candle" to music "Melody" by M. Skoryk, lyrics by B. Stelmakh. During the song, all those present lit candles in memory of the victims.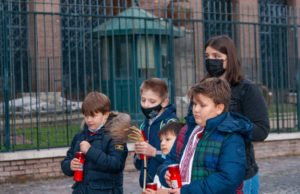 According to Oles Horodetskyi, Counselor-Envoy of the Ukrainian Embassy in Italy, Oksana Amjadin, in her speech, emphasized the significant steps made by Ukrainian scientists to establish the facts of the Stalinist regime's planning and execution of the Holodomor and noted that Ukrainian courts sentenced genocide organizers. Speaking about the number of dead children and the terrible despair of mothers, the Ukrainian diplomat could not refrain from tears.
In his speech, Oles Horodetskyi noted that the truth about the Holodomor should be spread not only to commemorate the genocide victims but also to ensure that such crimes never occur again in the future. The crimes of the communist Soviet regime must be condemned by the "Second Nuremberg" and not praised as heroic deeds. One of the consequences of the lack of an international tribunal on communism is putinism and russian military aggression against Ukraine.
It is also reported, memorial services for the Holodomor victims took place in Ukrainian churches in Rome on Saturday and Sunday.
Let us recall that in the autumn of 2020, the Ukrainian community in Rome appealed to the Italian parliament to recognize the man-made famine in Ukraine of 1932-1933 as an act of genocide and to introduce the study of this topic in local schools.