The victims of the Holodomor were commemorated in Brussels
A liturgy and memorial service for the Holodomor victims took place on November 21 in the center of Brussels in the Cathedral of Saints Michael and Hudula. Attendees remembered and prayed for the souls of millions of Ukrainians who died as a result of a mass man-made famine organized by the communist regime in Ukraine in 1932-1933, Ukrinform reports.
The Holodomor was caused by purposeful measures of the Soviet authorities aimed at the physical destruction of the "bourgeois" Ukrainian peasantry, the suppression of any resistance, and the national liberation movement. There was a blockade of villages and entire districts, where people died of starvation. At the same time, the Soviet government had large reserves of grain and sent it for export.
As a result of these violent measures, as the complex forensic examinations established, 10 million 500 thousand Ukrainians died.
During the service in the Cathedral of St. Michael and St. Hudula, those present remembered these horrific events, which should never happen again, and commemorated the victims.
"Days like today are important to remember these events," during the liturgy it was said. – Our commemorations make sense because they teach us that evil can never have the last word. May this remembrance also strengthen our prayer that this may never happen again in our history."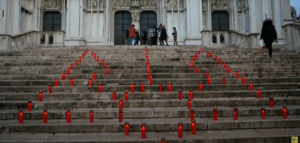 At the same time, the trident, which was laid out from lamps on the stairs in front of the church, as a reminder to the world of the tragedy suffered by Ukrainians, drew the attention of the passers-by outside.