Ukrainians in Bavaria will remind Germans of the Holodomor
The Ukrainian community in Bavaria will commemorate the Holodomor victims in Ukraine in 1932-1933 on November 14. The action will take place at Max-Josepf-Platz in Munich with the participation of the Consul General of Ukraine in Munich and employees of the diplomatic mission, the clergy of the Greek Catholic and Orthodox Churches, Ukrinform reports.
As early as November 1, QR-Code posters linking to the Holodomor website in German with current figures of the Holodomor victims taken from this year's International Forum "Mass Artificial Famine: Remember, Honor" have been posted at the Consulate General. These materials will also be used at the action on November 14.
A banner measuring 85×200 cm with a QR-Code will be placed on Max-Josepf-Platz in Munich. According to the author of the idea, activist Nataliia Tkachuk, the poster design was created by Halyna Kubiv, and they made the site together with Oleksii Akimov. QR-Code is also Oleksii Akimov's work.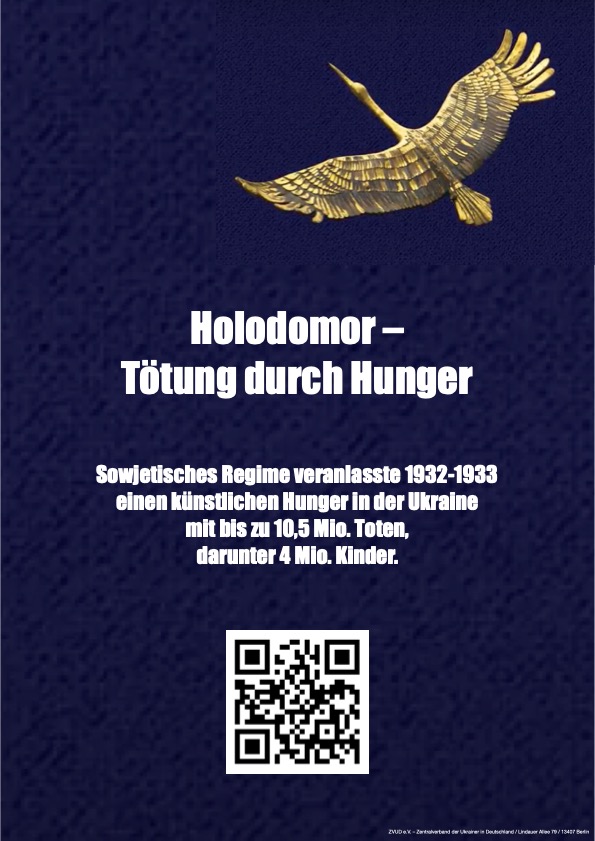 In addition, in front of the Opera House in central Munich, people on Max-Josepf-Platz, which is always crowded, will be provided with information about the Holodomor and its victims.
It should be recalled that in December 2018, Nataliia Tkachuk, on behalf of the initiative group, submitted a Petition to the German Bundestag recognizing the Holodomor as a genocide of the Ukrainian people. The petition has collected 73,177 signatures and is still being considered by the petitions committee. The work should be carried on by the new commission of the newly elected parliament.