A play about the genocide of Ukrainians was performed in Iran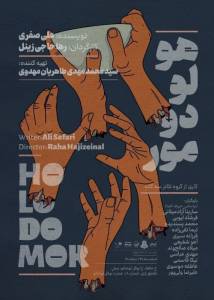 The premiere of the play about the genocide of Ukrainians based on the Iranian play "The Holodomor" took place on the stage of the Neauphle-le-Chateau Theater in Tehran.
This was reported by Ukrinform with reference to the Tehran Times.
The screenwriter of the play, performed by the troupe Seganeh, is Ali Safari. Directed by Raha Hajizeinal.
This play is the final part of a trilogy produced by Safari and Hajizeinal in 2019 and 2020. The first of them was called "Women's Auschwitz", the second one is "Berlin 10:10". The play about the Holodomor genocide will be on view in the Iranian theater until March 12 inclusive.
Cast: Sarina Azad-Milani, Farshada Ayubi, Mohammad Pasandide, Tim Takizade, Farzane Seiri, Ahu Shafieya, Milad Salehwand, Mehdi Abbasi, Nika Kasemi, Atefe Mousavi and Alireza Valipur.
It will be recalled that in November, the Holodomor Museum presented an audio guide in 33 languages, including Persian.
Cover photo: scene from "The Holodomor" performance \ Reza Havidi.