Exhibition "The Holodomor: Through the Eyes of Ukrainian Artists" opened in Kyiv
" The Holodomor: through the eyes of Ukrainian artists" is the name of the exhibition that opened at the Hennadii Udovenko Diplomatic Academy of Ukraine at the Ministry of Foreign Affairs. It displays paintings from the private collection of Morgan Williams, director of the American-Ukrainian Business Council.
As "Suspilne" reports, visitors can see more than 50 works by Ukrainian artists Mykola Bondarenko, Vera Barinova-Kuleba, Nestor Kizenko, Nina Marchenko, Mykola Shevtsov, Volodymyr Kutkin, Ivan Novobrants and Ilko Myronenko.
"There is a lot to be said about the Holodomor, but it will always be too little. Because we have not realized even half of the suffering that our people went through," said Foreign Minister Dmytro Kuleba at the exhibition opening."I remember very well my grandmother, whose family was affected by the Holodomor. She survived, but the fear was so great that by the early 2000s, she was afraid to talk about it.It was fear that Stalin sewed on the level of the DNA of Ukrainians, and that was precisely his goal – to frighten and break us. But we did not break- we overcame the fear, and we will really work to continue to inform the world about this tragedy and the victory of Ukrainians in it. Because we were not killed, our identity was not destroyed."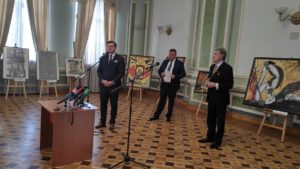 The artist, Honored Artist Vira Barinova-Kuleba, whose paintings presented at the exhibition, told how she survived the famine in 1945-1947. "I picked rotten potatoes, picked all kinds of roots, especially yellow acacia, and ate them," she says. – And this exhibition will tell the whole world a lot. I didn't invent anything; I only drew the truth I endured."
According to Nataliia Lavrova, the curator of the exhibition, only a small part of the collection is presented in the exposition.
"In total, the collection includes about 450 works of various genres – paintings, posters, engravings, drawings, graphics. For this collection, it was important that all works were created by Ukrainian artists and, of course, all of them were made after 1988. Because until 1988, the Holodomor could not even be mentioned. For this, it was possible to get into the Gulag," she said. "Of course, the artists were born after 1932-1933, but they were told by their parents who survived it. They all had a personal sense of the subject."
The curator said that the organizers had previously organized four exhibitions abroad. The first exhibition was in Australia, then – in the UK, Canada, and the United States (Chicago). And recently, in the US capital, Washington opened another exhibition, said Nataliia Lavrova.
The exhibition at the Diplomatic Academy will last until November 30.